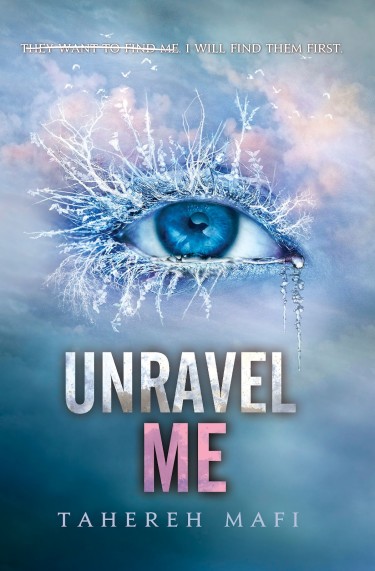 Title: Unravel Me
Series: The Juliette Chronicles
Book Number: #2
Author/s: Tahereh Mafi
Publication Date: February 5th, 2013
Publisher: Harper Collins
Pages: 461
Purchase: Amazon | iBooks | Booktopia |  The Book Depository
Synopsis: 

tick
tick
tick
tick
tick
it's almost
time for war.

Juliette has escaped to Omega Point. It is a place for people like her—people with gifts—and it is also the headquarters of the rebel resistance.

She's finally free from The Reestablishment, free from their plan to use her as a weapon, and free to love Adam. But Juliette will never be free from her lethal touch.

Or from Warner, who wants Juliette more than she ever thought possible.

In this exhilarating sequel to Shatter Me, Juliette has to make life-changing decisions between what she wants and what she thinks is right. Decisions that might involve choosing between her heart—and Adam's life.

Shatter Me introduced readers to Juliette, a strong girl with some serious psychological issues – no thanks to her parents and the civilians of Sector 45, who were programmed to hate her. Juliette had grown up, not knowing what it's like to love or be loved, yet she still treated every single person with respect.
We also meet her saviour, Adam, who becomes her love interest, and her 'enemy', Warner, the commander of the Sector in which these books take place.
Unravel Me explored these characters further. It explained that not everything goes as planned and you come to realise that people's intentions are most definitely not what they seem from a broader perspective. Tahereh Mafi's knowledge of how humans work is clearly shown throughout Unravel Me, and I definitely think that this is an important aspect of writing a fabulous book.
"Books are easily destroyed. But words will live as long as people can remember them."
I have read a lot of reviews of Shatter Me and Unravel Me, which state that they thought that Juliette, being the strong character that she is, should have been less reliant on Adam, and the other characters, however, if an average human being – I don't mean to say that Juliette is one, – had been treated like an animal for their entire life, had been forced to believe that they were not worth anything and actually believed half of the insults that were thrown her way, I don't think that that person would have the psychological capabilities of busting out of a cell and starting a revolution.
Tahereh Mafi definitely had a talent in creating characters, but I would have enjoyed Unravel Me if more happened. Unfortunately, for me, Unravel Me was like the Mockingjay of the Juliette Chronicles – meaningful but downright boring. Despite saying this, I was fascinated by the chemistry between Juliette + Adam and Juliette + Warner changing.
Overall, Unravel Me was a heart-shattering book (I intend to laugh at my pun, straight after I finish crying over fictional characters) and  I would most definitely recommend it to people who've read Shatter Me.
😉 No, but seriously, if you enjoyed Branded, Delirium, The Hunger Games, Divergent and/or the Hush, Hush saga, I can almost guarantee that you will adore the Juliette Chronicles, as well.

What is your favourite Tahereh Mafi quote?