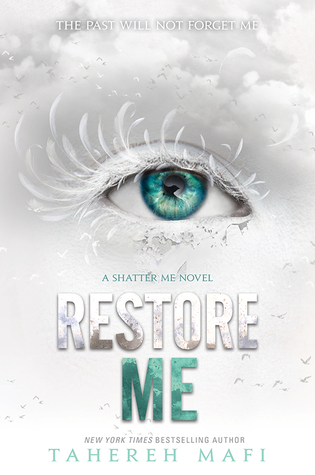 Title: Restore Me
Series: Restore Me Series (following the Shatter Me series)
Book Number: #1
Author/s: Tahereh Mafi
Publication Date: March 6th, 2018
Publisher: Harper Collins Teen
Pages: 435
Purchase Link: Book Depository
Synopsis

Juliette Ferrars thought she'd won. She took over Sector 45, was named the new Supreme Commander, and now has Warner by her side. But she's still the girl with the ability to kill with a single touch—and now she's got the whole world in the palm of her hand. When tragedy hits, who will she become? Will she be able to control the power she wields and use it for good?

Firstly, I'd like to sincerely thank The Book Depository for being so cheap, so fast, and so amazing. I preordered Restore Me in January and finally got it a couple of days ago (I ordered a different edition to the edition published on the 6th of March, so my copy came mere days after it was published, which I highly appreciate).
Today, I hopped on a bus at 9:15am and began reading Tahereh Mafi's fourth instalment of the Shatter Me universe (it seems this is an entirely new series named the 'Restore Me' series, but does indeed lead off from the events of Ignite Me). I feared that I would forget the happenings of Shatter, Unravel, and Ignite Me, as I haven't read them in *forever*, but I was pleasantly greeted with just the right amount of flashbacks/little pieces of information to spark my memory (although if I could do it again, I would at least read Ignite Me in the days leading up to this one). We begin with a lighthearted scene – that turns into a little more as we dive deeper into Mafi's pages – which sets the mood. We're on the other end of Anderson's death, the other half of freedom, we're finally getting to see the light at the end of the tunnel because North America is under the control of our new Supreme Commander, Juliette Ferrars.
But wait.
Oh no.
Mafi wouldn't let that happen. Not so easily.
Within the first couple of chapters (which are now written in two POVs, alternating between Juliette and Warner), our beloved characters are faced with new, even scarier challenges. If the Shatter Me series was microeconomics, this new beginning is macroeconomics. The universe is no longer revolving around Juliette, Warner, Kenji, and the dozen others that made the cut, no no it's much larger. We're introduced to characters from outside Sector 45, outside North America even.
"In the steady thrum that accompanies quiet, my mind is unkind to me. I think too much. I feel, perhaps, far more than I should. It would only be a slight exaggeration to say that my goal in life is to outrun my mind, my memories."
I often find that some authors struggle to create intricate characters by the lot, they all seem to be lacking… life? Tahereh Mafi's characters aren't. They're relatable, flawed, witty, untrustworthy, trustworthy, messed up. They're so real. Even the development of Juliette, Warner, and Kenji and their respective relationships are so beautifully crafted throughout the four books, they change but not completely; they still carry remnants of their Shatter Me days, and I'm living for it. Also, Mafi introduces one of my favourite all-time characters in Restore Me, and I'm dying to hear more from her (name starts with an 'N' but I'm not about to spill all of my thoughts and feelings because it'll give a lot away – read this masterpiece and find out for yourself 😉 ) – also, if she turns evil, I'm not quite sure how I'll handle myself.
I did find that there wasn't quite as much action, per say, in the first ~two thirds of the book. Don't get me wrong, the plot had me hooked with all of its twists and turns, and stuff did happen, but it felt a little boring in terms of crazy escape scenes, or gun fights, or whatever. I'm not sure how Mafi could have included such scenes without ruining the intricacy of the story line, but it would've been cool.
HOWEVER, as we continue to flip pages and reach the final fifth of the book, sh*t gets real. Mafi goes full blown. I'm talking plot twist after plot twist (not massive ones, but big enough to make you gasp a little internally) and something?happens?that?was?huge?i'm?talking?700?people?huge?but?also?not?sure?what?to?think?of?it? because after this Event™ our protagonist wakes up in a mystery location (you'll find out – it's very meaningful so I'm not going to spoil it for you) and a bunch of other CRAZY details are revealed that take our mind off of the Event™. Goodness, as much as I say I can't wait for the next novel, I also don't think I'll be able to handle the insanity.
"The destruction of the world didn't happen overnight, and neither will saving it."
I'm really proud of Juliette. I'm so happy that she is strong, she acts like she deserves to be in the position she's in, but she also allows herself a heart. Sure, she makes a few questionable mistakes during this book, but it definitely adds to the reality of her character. A lot of protagonists annoy me these days, they make stupid decisions that have no backbone whatsoever. Ferrars is different; better.
Back to the multiple POV thing I touched on before; I'm usually not a fan. It often means a character dies, or the two lead very different story lines. I absolutely prefer one POV throughout a book, but that is not to say I didn't enjoy this style of writing. I loved seeing things from Warner's perspective for a change, it added so much necessary depth to the plot, and created an almost 3-dimensional view of the universe, characters, arguments, and backstories. Mafi executed this style brilliantly, hats off to her.
Little note that I didn't really know where to put: it would have been really cool to see more of Juliette's crossed-out thoughts. I understand she's grown up/matured/changed, but she's still Shatter-Me-Juliette, and we encountered her haunting past's influence on Restore-Me-Juliette, so why didn't we get a bit of that? idk… but I did really enjoy the asylum journal excerpts – they were very, very fitting.
"Loneliness is a bitter, wretched companion. Sometimes it just won't let go."
Oh, and on a very superficial note, can we once again talk about how GORGEOUS these covers are? Goddamn, I think I'm in love.
Anyway, I believe this is all I can manage without spoiling the goodness of Tahereh Mafi's book. I'm going to give it 4.5 stars. Mostly because I love the universe, but also because of the literacy itself. The thoughts, conversation, flashbacks, excerpts, just everything was done so amazingly. To anyone who enjoyed the Shatter Me series, get your hands on this book. It shakes everything up, yes, but it was an incredible, and much needed, addition to Mafi's universe.

QOTP: Who is your favourite new character, and what are your predictions for their Mafi-futures?