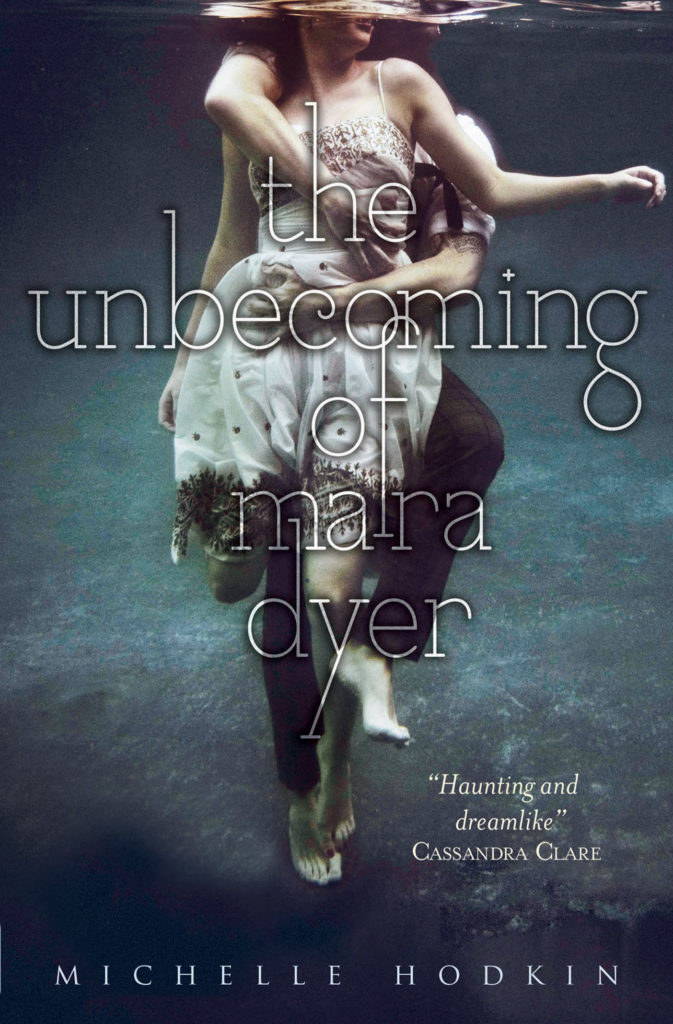 Title: The Unbecoming of Mara Dyer
Series: Mara Dyer Trilogy
Book Number: #1
Author/s: Michelle Hodkin
Publication Date: September 27th, 2011
Publisher: Simon & Schuster Books
Pages: 456
Purchase Links: Amazon | iBooks | Booktopia | The Book Depository
Synopsis

Mara Dyer believes life can't get any stranger than waking up in a hospital with no memory of how she got there.

It can.

She believes there must be more to the accident she can't remember that killed her friends and left her strangely unharmed.

There is.

She doesn't believe that after everything she's been through, she can fall in love.

She's wrong.


I accidentally posted the draft of this a few days ago, when writing my dot-points, so apologies for any random notifications you may have received.
I picked up The Unbecoming of Mara Dyer on a bit of a whim. Influenced by the social media hype and persuaded by my huge book-drought, Michelle Hodkin's first instalment to the Mara Dyer trilogy had me flipping through its pages wherever time allowed (and sometimes, when time did not allow).
I have to talk about the universe's atmosphere first. It was dark and creepy, yet warm and cosy at the same time. It pulled you in, freaked you out, and tied you down – reminding me of the Hush, Hush series by Becca Fitzpatrick. Hodkin's characters added to this intriguing atmosphere, and whilst you despised a few, and loved a few more, each personality was built with absolute perfection. There was, surprisingly, not one character I was not fond of because of their depth, or lack thereof.
On the subject of characters, the beginning introduced a lot of people, with their fair share of information, all at once. This was a let down, because some of these said people weren't spoken about all too often and could easily have been forgotten. The format of the beginning chapters were not my favourite, either. I was utterly confused, and just not grabbed by the writing straight away, which was a shame, this isn't to say I disliked it though, so I'm not sure where I stand on that matter.
"Thinking something does not make it true. Wanting something does not make it real."
Ookay. Here. The romance between the two main characters felt forced, fake, and almost boring. I am a sucker for cute YA romance novels but sometimes I was tempted to skip these parts. I mean, Mara Dyer the girl with PTSD falling head over heels with this boy she barely knew within the first 30% of the book? nah… I would have liked to see more of a lead up and hate part of the 'hate to love' romance.
The Unbecoming also featured some amazing dialogue. I enjoyed reading the wit weaved into Dyer's own words, and the realness of each and every conversation.
The book itself was written from the perspective of Mara Dyer, who suffered from PTSD and was close to being admitted to a psychiatric hospital by her own loving mother. This was both fascinating and incredibly confusing at the same time. I mean, the book ultimately relied on her narrating for a good story, but the biggest problem I had with Hodkin's novel was that I was confused, like, 90% of the book. I had no idea what was real, what were hallucinations, who was dead, who was alive, and adding scenes from prior to the Big Event™ made this even harder to grasp (however well they were written). If you're planning on reading The Unbecoming of Mara Dyer anytime soon, make sure you have the time and effort to read slowly and carefully, and be prepared to re-read entire pages.
Finally, the ending. Expected, yes, but wanted? I don't know? It felt unfinished, even for book one of a three-part series. Disappointing, even. But good. I just don't know how I feel about it.
"And just like that, I was completely, utterly, and entirely,
His."
Overall, this book had an insanely interesting plot, beautifully crafted characters, and great dialogue. It's format was confusing, and narrator was challenging to understand at times, but it was worth trying harder because Michelle Hodkin nailed the non-cliche, teenage slight-romance-lil'-bit-of-bad-boy, mysterious/dark storyline on the head. This little chicken with definitely be continuing along the Mara Dyer trilogy.
So for all its flaws, I think a 3.5 star rating is the way to go.


What did you think of The Unbecoming of Mara Dyer? Who was your favourite character, and what do you think of the ending??