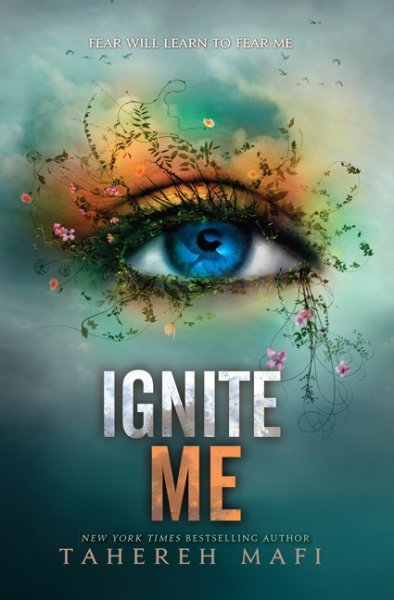 Title: Ignite Me
Series: Shatter Me Series
Book Number: #3
Author/s: Tahereh Mafi
Publication Date: February 4th, 2014
Publisher: Harper Collins Teen
Pages: 421
Purchase Links: Amazon | iBooks | The Book Depository | Booktopia
Synopsis

With Omega Point destroyed, Juliette doesn't know if the rebels, her friends, or even Adam are alive. But that won't keep her from trying to take down The Reestablishment once and for all. Now she must rely on Warner, the handsome commander of Sector 45. The one person she never thought she could trust. The same person who saved her life. He promises to help Juliette master her powers and save their dying world . . . but that's not all he wants with her.

So the last time I read this book was in 2015, and I ended up reviewing Shatter Me (book 1) and Unravel Me (book 2) but didn't get around to Ignite Me (book 3). A year prior to this, I put down the Estelle Maskame's DIMILY trilogy and didn't pick up another book until Shatter Me. Thank you, exams.
I'm not quite sure why I chose to read Shatter Me again, whether it was the cover, thought of exploring a fictional universe once again, or pure coincidence that it was the latest series on my iBooks shelf (yes, I read ebooks… cry me a river), but I kept reading every page of the series because Tahereh Mafi is a legendary author.
"And we are quotation marks, inverted and upside down, clinging to one another at the end of this life sentence. Trapped by lives we did not choose."
This book takes off from the destruction of Omega Point, the rebel base, and Juliette is ready to fight. The ending chapters of Unravel Me saw Juliette shot in the chest by supreme commander Anderson (dream boy's father), Warner being dream boy once again, and our star protagonist transforming into the strong warrior she is. Ignite Me saw this same girl team up with people we hated in book 1, to take down some other people we hated. Mafi's plot had me hooked, for every single one of the 421 pages.
In terms of characters, I'm in awe of how well each person has been created, introduced, and played out. Even the wickedest of villains are the most complicated pieces of perfection… ahhhhhh!
In Ignite Me, we get to meet sides of characters (e.g. Kenji) that we'd never think exist. Our hearts are shattered by certain relationships, romantic and blood, but holy moly they're great twists.
One of my favourite things about the Shatter Me series is the kinda-love-triangle-that-isn't-really-a-love-triangle theme throughout the series, and the reality of said romances. Juliette did know Adam for years before the book commenced, but there was not romantic interest. They were pushed into a well of superficial love by their desperation. I mean, if you were in isolation for your entire life, and someone could finally touch you and showed you respect, you'd probably take the same path. It was going to happen, but the way it ended was wonderful. It was real. And the hate-turned-love romance between Aaron and Juliette was even better. They were made for each other. Perfect.
I'm not usually a fan of ya romances, they're too cheesy, predictable, and boring most of the time, but Mafi played this well.
"Comamandering is not a word."
"It has letters, doesn't it? Sounds like a word to me."
If you remember, Shatter Me and Unravel Me ended with massive cliff-hangers/endings that weren't really endings. They said "don't worry, this isn't the end, you're going to see a hell of a lot more of these characters" and I loved it. Ignite Me ended with a half-cliff-hanger, as a reader, I wanted needed more of Juliette's narrating, Warner's entire character, Mafi's plot, my questions answered. If it were to be the end of the series, I wouldn't be a fan. An epilogue would've completed it, maybe, but it felt a tad unfinished, which is why I was not surprised when Tahereh Mafi announced that Restore Me (book #4) would be published March of 2018.
All in all, I love these books. I love the plot, characters, writing style, and emotions they evoke. Ignite Me was just another display of how great Tahereh Mafi is at writing, and I can't wait for the next three books. Bring it on, Restore Me.

Okay so who else is e.x.t.r.e.m.e.l.y. excited for the next three instalments to Mafi's Shatter Me series?