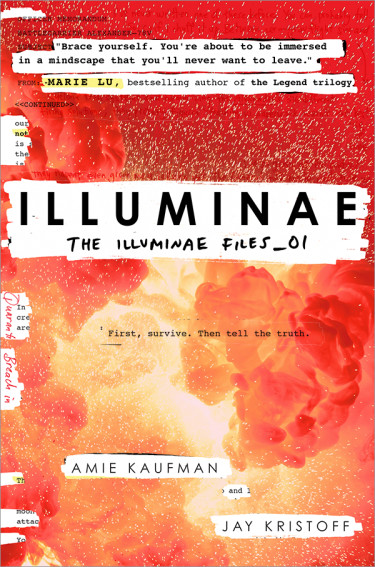 Title: Illuminae
Series: The Illuminae Files
Book Number: #1
Author/s: Amie Kaufman and Jay Kristoff
Publication Date: October 20th, 2015
Publisher: Knopf Books for Young Readers
Pages: 599
Purchase: Amazon | iBooks | Booktopia |  The Book Depository
Synopsis: 

This morning, Kady thought breaking up with Ezra was the hardest thing she'd have to do.

This afternoon, her planet was invaded.

The year is 2575, and two rival megacorporations are at war over a planet that's little more than an ice-covered speck at the edge of the universe. Too bad nobody thought to warn the people living on it. With enemy fire raining down on them, Kady and Ezra—who are barely even talking to each other—are forced to fight their way onto an evacuating fleet, with an enemy warship in hot pursuit.

But their problems are just getting started. A deadly plague has broken out and is mutating, with terrifying results; the fleet's AI, which should be protecting them, may actually be their enemy; and nobody in charge will say what's really going on. As Kady hacks into a tangled web of data to find the truth, it's clear only one person can help her bring it all to light: the ex-boyfriend she swore she'd never speak to again.

Told through a fascinating dossier of hacked documents—including emails, schematics, military files, IMs, medical reports, interviews, and more—Illuminae is the first book in a heart-stopping, high-octane trilogy about lives interrupted, the price of truth, and the courage of everyday heroes.

This morning, Bianca woke up thinking it would be an ordinary Saturday.
This afternoon, she was trying not to die from Illuminae-deprivation-itis (yes, of course that's an actual thing… What are you talking about?).
As exemplified by my lack of reviews recently, I haven't read a whole lot for a couple of months. Life just decided to get in the way of me flicking through pages and consequently, my motivation to read as much as before died a little, but Kaufman and Kristoff managed to bring it back with their brand new novel, Illuminae – part one of the Illuminae Files [trilogy to-be].
I discovered this treasure after trawling through Amie's website during my These-Broken-Stars-Hangover and preordered it back in September. Shipping issues delayed the book by 20 ARDUOUS DAYS but as soon as I got my hands on the novel, it was impossible to put it back down again.
The BFGIB (Bianca formula for getting into books) states that it will, on average, take a third of the book's pages to get you hooked (hence why I urge friends to read up until 50% when they complain about not enjoying any given story), but Illuminae completely tore my theory apart – only taking a single interview (18 pages) to grow an attachment between myself and the story.
"I am frequently underestimated. I think it's because I'm short."
The moment you open Illuminae, you know it's going to be different from every other book you read. There is no space for ordinary pages as the book is filled to the brim with interrogations (Amie Kaufman's signature style, it seems), eMails, journal entries, inter-ship instant messaging, AI-processing pages, surveillance footage summaries, Ezra's wonderful illustrations and other exclusive records. The novel was set out as a compilation of files and documents eMailed from a group (called 'Illuminae') to a mystery person we are only introduced to as 'Director' (this is revealed in the very end, and it, no doubt, is going to be the basis on which part 2 of the Illuminae Files will be written on). This unique style makes the world appear more realistic to readers, and the novel more engaging to read (however, it's amazing plot has a lot to say for that, too).
"I listed to his heartbeat. Hear him breathe. As thought becomes motion and motion become all that lies between him and the end. As the black is burned blue with the light of tiny funeral pyres. As his missiles and bullets take away his enemies, all they were and will ever be.  I can taste it in his sweat. Hear it in his whispers. See it in the tiny photograph he has taped to his console. All he thinks of amid this loveless dance, all he cares about here on the edge of forever, is her. He does not want to die. Not because he is afraid. Simply because he cannot bear the thought of leaving her behind. And there, in that tiny moment, I envy him."
Throughout the book, there are about a dozen recurring characters who have all been built, by Kaufman and Kristoff, to perfection. The two most predominant personalities, Ezra Mason and Kady Grant had two completely different backgrounds, of which interlaced before the setting of the actual story depicted in Illuminae – the two characters had been dating for some time and broke up the morning of the attack  which isn't something I have seen in any YA novels, to date. Or any novels, for that matter. Each character – large or minor – had their own personalities that conversed perfectly and established witty, serious or emotional conversations at the appropriate times – conveying a purposeful element of human-likeness, even when the subjects are in the midst of a zombie apocalypse… Kind of.
"Perhaps bravery is simply the face humanity wraps around its collective madness."
I noticed some similarities between Amie Kaufman's co-authored book 'These Broken Stars' and Illuminae, including the setting in space and the interviews, but it didn't pose a problem for me, personally. I think it is lovely when an author has a trademark style, but others may perceive this as boring, useless and lacking originality.
I had two favourite aspects in the pair's novel; the fact that the AI system had a sense of self (which caused quite a few issues) and the impeccable amount of romance – not too little, not too much and it was always meaningful.
One of the most talked about subjects, when discussing artificial intelligence, is how they could take over the world and destroy humanity; especially if they were self aware. Kristoff and Kaufman took this to a new height when AIDAN (Artificial Intelligence Defence Analytics Network, virtually the brain and beating heart of the Alexander-78V) was aware of its job -keeping as many people alive as possible- and knew it was more powerful than any of the humans aboard, which essentially drove it crazy.
I've read a decent amount of reviews touching on the subject of the romance aboard Illuminae and how it was too much, too cliche. I'm not going to go into a lot of detail, but the one thing I kept in mind when reading the 'love story' bits was this: when your family is gone, and you have the one person that you used to love in front of you, the only remnant of your home planet, what would you do? (& I advise that all prospective readers keep it in their head, too.)
So, overall, this book was AMAZING!
If you loved Amie Kaufman's 'These Broken Stars', you're going to adore this novel, and even if you didn't, Illuminae is a fresh idea that is fit to intrigue even the fussiest of bookworms. 😌

ALSO: Illuminae's film rights have been bought by Brad Pitt's 'Plan B Entertainment' who created '12 Years a Slave' and 'World War Z'. Read more here!
Are there any book-to-movie adaptations you're looking forward to? Who would you cast as the main character and why?