I need to preface by saying that I began this review in March 2018 and am only now finishing it, so you get an insight into what life is like 12 months after buying a Kindle.
I received this obnoxiously stunning e-reader in December of 2017, as a late Christmas gift from my parents. Previously, I'd been kinda-interested in e-readers, but also kinda-not. I found myself charmed by the allure of a mobile library, but kept at bay by my love for the thin, ink-ridden paper of a hardcover novel.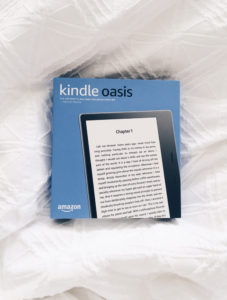 Being Australian, books don't come cheap. You pay $20 for a paperback (you can add at least $10 if you'd like a hardback), whether you love the book or not. Our major book suppliers are Dymocks (mostly over priced, but you also pay for the privilege of shopping in a bookworm's wonderland), Booktopia (Australian online bookstore, reasonably priced, but shipping is $7), and my favourite, The Book Depository (amazing prices, free shipping… but you have to wait at least a week for most orders to be delivered – at least you get those snazzy bookmarks by the dozen for each order you place).
E-readers provide an alternative. Wherever in the world you are, your book is delivered at the same cost, free shipping, and immediately. Unfortunately you're stuck with the same ribbon bookmark for every novel, though.  They do take away the small and satisfying nooks and crannies of a physical book though; no new-book smell, bind snapping, page turning, library browsing, or the simple aesthetic of reading a paper book in a cozy chair with a cup of steaming tea. Reading an ebook on your phone also means you don't need a larger bag or to bring anything extra wherever you're going, regardless of how many novels you plan on reading.
The only time I've ever looked at buying a Kindle was in 2012 when a lot of family friends raved about the convenience they bring. Otherwise, I had never been interested enough to fork out up to $529 to read books without the satisfaction of flipping physical pages. Now that I'm older, and travel on public transport a whole lot more, Kindles seem more worthy of my money.
Of course, once you buy a Kindle, the books you read still cost money. Over 3 million are under $9.99, but they can end up costing as much as the paperback in some circumstances. If you're looking to save money, it may not be the best investment.
On this note, Amazon has a subscription-based program, Kindle Unlimited, which allows users to read as many books as they want, free of charge. The only catch is that not every book is part of the program. Otherwise, it's a great idea, and especially good for bookworms that read more than the YA bestsellers.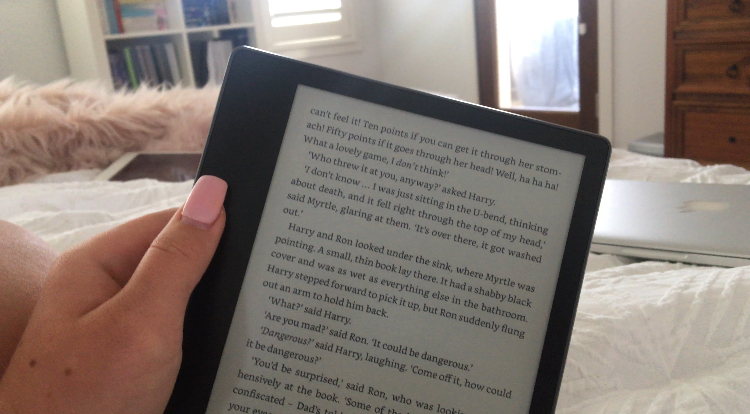 My favourite part about the Kindle Oasis is the ergonomics of the design. I never thought I'd enjoy the uneven surface, but it actually makes it 1,000,000x easier to read than a standard book, especially when you're lying in bed (built in light makes this easier too). If you're reading by the pool or beach in Summer, the Kindle Oasis (unlike many e-readers and standard books) is waterproof!!
Overall, albeit my initial concerns (stemming from my love of paperbooks), I truly love my Kindle Oasis. It's a little pricey, but upgrades my reading experience in ways I'd never thought possible. It hasn't replaced all of my novels, I still read maybe 60% of books off of it, but it's great to mix things up once in a while.

You can compare and purchase models via this link.