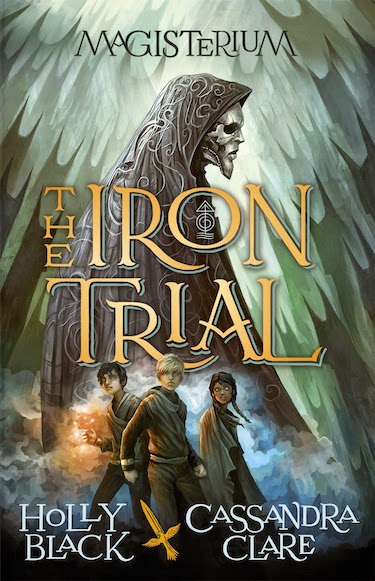 Title: The Iron Trial
Series: Magisterium
Book Number: #1
Author/s: Cassandra Clare & Holly Black
Publication Date: September the 9th, 2014
Publisher: Scholastic
Pages: 299
Purchase: Amazon | The Book Depository | Booktopia | iTunes
Synopsis 

Most kids would do anything to pass the Iron Trial.

Not Callum Hunt. He wants to fail.

All his life, Call has been warned by his father to stay away from magic. If he succeeds at the Iron Trial and is admitted into the Magisterium, he is sure it can only mean bad things for him.

So he tries his best to do his worst – and fails at failing.

Now the Magisterium awaits him. It's a place that's both sensational and sinister, with dark ties to his past and a twisty path to his future.

The Iron Trial is just the beginning, for the biggest test is still to come . . .

Prior to reading The Iron Trial, I'd heard rumours that it was 'yet another rip-off of Harry Potter'.
5 days ago, when I finished the book, I could finally say, from the bottom of my heart, that it was not Harry Potter. When readers start comparing two books from the same genre (in this case, it's fantasy), they're going to find a lot of similarities, but if all books were completely unique, genres would not be an acceptable way of sorting text.
I originally picked up this book because I was on a book-hangover (no thanks to City of Heavenly Fire) and decided that Cassandra Clare's writing may have the ability to rescue me from the pit of sadness, just as well as it put me there.
I was wrong.
Cassandra Clare and Holly Black may have threw me a rope and pulled me up, but only to drop me back into the pit. I cannot wait another seven months to find out what happens with Call.
Plus, the cover of The Copper Gauntlet (book number 2 in the Magisterium series) was just released… AND JASPER WAS ON THE COVER?!?!?!
I need an explanation… now!
Despite the fact that I am completely obsessed with the story, I found a few faults within the text – mostly just places where decent descriptions were lacked – but I can forget about them, thanks to the MASSIVE PLOT TWIST!?
Cassandra and Holly have a way of weaving small hints into the text, that seemingly mean nothing, but make heaps of sense once the time comes around.
Overall, I adored this book and if I had my time again, I wouldn't hesitate picking it up again.

What did you think of The Iron Trial? If you haven't read the book, are you considering it?