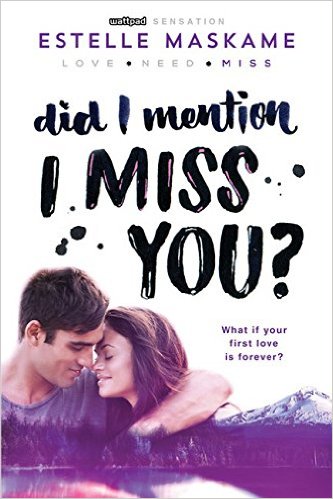 Title: Did I Mention I Miss You?
Series: DIMILY Trilogy
Book Number: #3
Author/s: Estelle Maskame
Publication Date: December 1st, 2016
Publisher: Black and White Publishing
Pages: 408
Pre-Order Links: Amazon | iBooks | Barnes&Noble | BooksAMillion | !ndigo | Indiebound
Synopsis:

Eden's on her way back to Santa Monica for the summer, and she hasn't seen Tyler since the devastating fallout of their forbidden relationship. Eden claims to have moved on—but Tyler wants to rekindle the flame.

He convinces Eden to visit his new home in Portland, Oregon, where he has set up a center for troubled teens. Eden's proud of what he's built, but the last time they were together, it nearly destroyed Eden and their family. Then a tragedy draws them together, and Eden must search her heart and decide if Tyler is worth the risk once and for all.

my review contains spoilers for the first and second books (only)
I had to make sure everything was perfect, before sitting down to indulge in this book, after all, it was the final instalment of one of my favourite series and the end of this novel meant the end of Tyler and Eden's story. Oh God, did I really want to go through this?
I often associate atmospheres (particularly in books) with vision-board-type descriptions. I feel like DIMILY was a palette of pink, orange, and blue, with vintage polaroids of roads lined with palm trees and the Hollywood hills. DIMINY was a view of New York, Central Park in the front-centre, with a selection of happy colours mixed in with dull blues and greys. Did I Mention I Miss You?, however, was black. The mood set from the get go was dark, angry, sad. Fourth of July, rather than being a memorable and happy holiday, was depressing – as if the memory had been coated with a monochrome filter. Whilst I miss the beautiful joy in the first two books, the raw emotions created by Estelle Maskame were extraordinary and rather necessary for creating a flawless plot.
One thing I must comment on is the phrase "I fire him a questioning glance." It's one of the very few things negative in this book, but nevertheless, the frequency of this sentence was super annoying.
Probably the only other negative aspect of this book was that I was waiting and waiting for something big to happen. Please, if you've read this book, tell me what you think of my judgment?
"That's the thing about distance: It either gives you time to move on form someone, or it makes you realise just how much you need them."
I'm kind of in two minds about that, though. Like, on one hand I like the natural vibe but I just wanted a super cheesy romantic SOMETHING!! AHHH!! The ending was perfect though. It kind of screamed "we've been through Hell and back again but we sure aren't going to stop here. Not now, not ever." It was pure and honest and made you believe it was a true story.
I must say, Estelle Maskame's DIMILY series was the perfect trio of novels to lift me out of this ridiculously huge book-hiatus. I hadn't finished a single book in numerous months (I was feeling guilty to the max.) and I pulled the idea to reread Did I Mention I Love You? out of thin air, and boy don't I regret it. Every sentence I read was poetic and overflowing with elegance, the words danced around in my head like you'd imagine fairies would around a flower patch. Maskame's characters lept into my mind every waking second, and all I could think was "what are they going to do when I open up the book again". I'm truly grateful for the literary brilliance I have discovered over the past year, and I always will be.
"Oh, little Eden from the forests of Portland, welcome to the real world."
This sure is not the greatest review I've ever written, but I wasn't expecting it to be when I began writing it. I wanted this post to be a raw collection of my feelings, penned whilst flipping through the pages. To truly understand the significance of a light hearted romance, with a teaspoon of sass and a cup of darkness, you must seek out Maskame's DIMILY series; it will make you smile, laugh, cry, and long for more.
Thank you for joining me on this journey! 🙂

Have you read Estelle's DIMILY series? Who was your favourite character, and which was your favourite book?