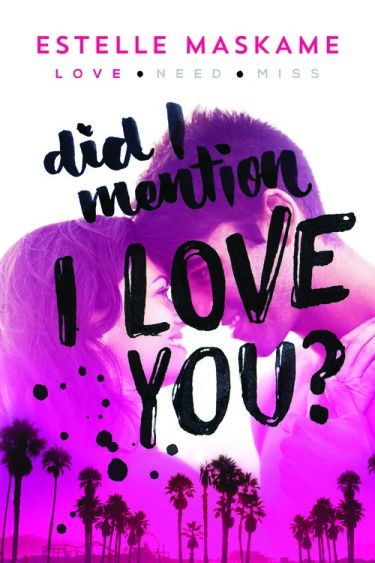 Title: Did I Mention I Love You?
Series: DIMILY Trilogy
Book Number: #1
Author/s: Estelle Maskame
Publication Date: December 1st, 2015
Publisher: Sourcebooks Fire
Pages: 421
Purchase: Amazon | iBooks | Booktopia |  The Book Depository | Barnes&Noble | BooksAMillion | !ndigo | Indie Bound
Synopsis:

Love is everything but expected.

Eden Munro came to California for a summer of sun, sand, and celebrities- what better way to forget about the drama back home? Until she meets her new family of strangers; a dad she hasn't seen in three years, a stepmonster, and three stepbrothers.

Eden gets her own room in her dad's fancy house in Santa Monica. A room right next door to her oldest stepbrother. Tyler Bruce. Whom she cannot stand. He has angry blue eyes and an ego bigger than a Beverly Hills mansion. She's never felt such intense dislike for someone. But the two are constantly thrown together as his group of friends pulls her into their world of rule-breaking, partying, and pier-hanging

And the more she tries to understand what makes Tyler burn hotter than the California sun, the more Eden finds herself falling for the one person she shouldn't…

Did I Mention I Love You? is the addictive first book in Wattpad sensation Estelle Maskame's DIMIY trilogy: three unforgettable summers of secrets, heartbreak, and forbidden romance.
Praise for DIMILY
"Readers will root for them, like they would with Edward and Bella—the mutual attraction and need for one another is palpable. It rings of passion, excitement, and first love." –VOYA Magazine
"An edgy young adult romance with dark layers" –The Examiner
"A believable coming-of-age story and an unconventional romance, set against a present-day California summer… . The fallout of divorce, the insidiousness of substance abuse and family secrets, and especially the pangs of first love drive this emotionally resonant tale." – Publishers Weekly
 "Written in first person, Maskame's trilogy opener is an excellent portrayal of a teenage girl's life in the 21st century. Eden has to adjust to her blended family, try to feel pretty, be body conscious, and make friends, all while falling in love for the first time. She is someone all young people can relate to…Romance fans will be captivated by Eden and her journey to finding herself and true love." –School Library Journal

I'm not one to stay up to ridiculous hours of the night reading, despite often being found asleep with a book in my hand, however, Estelle Maskame's intriguing young-adult contemporary novel kept me up until 3:30am! (I simply could not stop until I'd devoured every last word.)
I admit, my love for this book began long before I flicked through the first few pages, which has probably sparked a bit of bias… I mean, look at that stunning cover! However, it all balances out, since the glorious cover left me with very high expectations for the story – expectations that Estelle's characters pulled down in a heartbeat.
So, firstly, my absolute favourite feature of DIMILY was the diversity in each character. Our protagonist, Eden, was a relatively introverted, self-conscious bundle and her companion, Tyler, was a mess hidden within his hostile facade. Eden's friends each depicted unique traits that added a depth to the novel that most other stories lack.
"That's something I've always fond odd, people smile when they're sad. There's no such thing as a sad smile."
The constant twist of events added to the book's exclusiveness. Around the 40% mark, things went crazy and I felt as if I'd been transported back to the world of Lauren Oliver's 'Delirium' trilogy (yes, it was that magnificent). However, I did find myself pinpointing situations within the story that were downright repetitive – particularly around the 70% mark. I understand that the majority of teenage-romance-drama-contemporary novels tend to follow this path, but it irked me that such a marvellous plot was spoiled by such a mundane downfall.
I would love to sit here and write that the ending was a redeemable factor and it allowed me to forget about the rather monotonous patterns, mentioned before, but unfortunately, I can't. It saddens me to say that the last chapter was a let down, for numerous reasons. I mean, I shipped a ship that ceased to sail, and I was left completely baffled as to why. I understand the dramatic effect the unanswered questions were meant to leave in their wakes, but I am just one of those readers who loathes, despises and downright hates them – even when I know two books are yet to follow in the trilogy.
Finally, the epilogue. I have very mixed feelings about it. On one hand, my disappointment in the final chapter/s of the "real book" blinded my open mind from seeing much good in the afterword, and on the other, I was so overjoyed about the return of… a certain person… and I was skyrocketed into seventh heaven as I indulged the last few paragraphs. It was this skyrocketing that left me with the overwhelming NEED to get my hands on the second book in the DIMILY trilogy, Did I Mention I Need You?
"I really wish you hadn't said sorry for it. Because apologising means regretting."
When choosing the number of stars I am going to describe the book in, I take into account my feelings throughout my reading experience, weigh up the positives and negatives I explore in my review, and I also listen to what my heart has to say, because I tend to feel how many colourful stars any given novel deserves. When deciding on what I should rate DIMILY, I was uncertain as to whether I wanted to choose 3 & 1/2 stars, or 4. I felt as if choosing 4 would be expressing my excitement for the rest of the trilogy, in lieu of judging this book, itself, and so I have chosen 3 & 1/2 stars, in the hopes that readers of Bookalicious will understand exactly how I feel about DIMILY, and won't judge it by the somewhat low rating it has received.

Giveaway Time!
This giveaway is open until December the 31st, and to US & Canadian residents only. 🙂
If you had to choose one location for every one of your favourite ya romance/romance books to be written, where would it be and why?