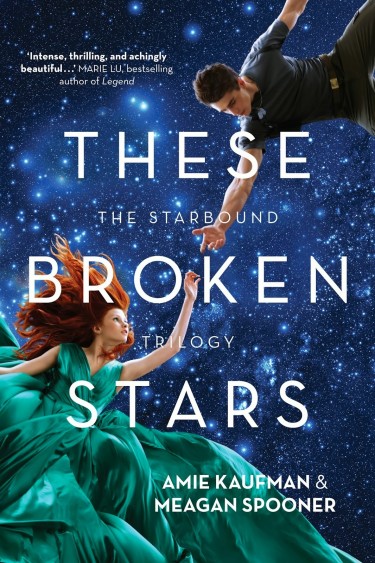 Title: These Broken Stars
Series: The Starbound Trilogy
Book Number: #1
Author/s: Amie Kaufman & Meagan Spooner
Publication Date: December the 10th, 2013
Publisher: Disney Hyperion
Pages: 374
Purchase: Amazon | The Book Depository| Booktopia | iTunes
Synopsis

It's a night like any other on board the Icarus. Then, catastrophe strikes: the massive luxury spaceliner is yanked out of hyperspace and plummets into the nearest planet. Lilac LaRoux and Tarver Merendsen survive. And they seem to be alone.

Lilac is the daughter of the richest man in the universe. Tarver comes from nothing, a young war hero who learned long ago that girls like Lilac are more trouble than they're worth. But with only each other to rely on, Lilac and Tarver must work together, making a tortuous journey across the eerie, deserted terrain to seek help.

Then, against all odds, Lilac and Tarver finda strange blessing in the tragedy that has thrown them into each other's arms. Without the hope of a future together in their own world, they begin to wonder—would they be better off staying here forever?

Everything changes when they uncover the truth behind the chilling whispers that haunt their every step. Lilac and Tarver may find a way off this planet. But they won't be the same people who landed on it.

The first in a sweeping science fiction trilogy, These Broken Stars is a timeless love story about hope and survival in the face of unthinkable odds.

As I flipped through the final chapters of this book, I felt so many strong emotions flow through my system, it was crazy! The story had come alive within my head, and that's one aspect of this novel that I adored.
If I wrote a list consisting of every single ending in books that I have fell in love with, These Broken Stars would be close behind Delirium (my absolute favourite).
The.BookClub 's collective review on Instagram proved my theory that Amie and Meagan wrote a fabulous book. They pointed out all of the elements that I admired, such as Tarver (a well-written decorated war hero whom Lilac got stranded on the planet with) and thought that the idea of having these alien beings living on energy were a very unique idea.
The book demonstrated themes that visited the harsh reality that even with all of the fame, fortune and public admiration of a wealthy man's daughter, your life can still be lifeless.
I personally enjoyed the topic of two parties, with no immediate similarities, joining forces and discovering that love has no limits – despite how cliche it sounds, this was executed very well in the pair's novel.
I almost forgot to mention the perspectives in which These Broken Stars was written. Usually, I don't tend to get into books written from multiple angles, which was why I was a little bit hesitant to pick up this book. However, when I began reading, I realised that Kaufman and Spooner had it all planned out, and made the plot even deeper with both Tarver and Lilac sharing their ideas, planting seeds of doubt in your head every time something happens.
I will not hesitate to pick up 'This Night So Dark' (the short story, connecting the first and second book in the Starbound trilogy) or 'This Shattered World' (the second book), in fact, I cannot wait any longer! If you're a fan of romance, action, adventure, The Hunger Games, Ender's Game and/or Branded (by Abi Ketner and Missi Kalicicki), I am sure of the fact that you will be captivated by this thrilling story.
More fantastic news; the two authors and Eric Balfour are currently planning a TV series for These Broken Stars, do you know how excited I am???

It's not very often that I give a book five stars, but when I do, it means that the book was extraordinarily amazing. I strongly believe that this book deserved five stars, because within it's pages was a unique plot, executed by the authors in a brilliant fashion. Each character was carefully built, to provide depth to the story. Not once was I bored, thanks to the constant action and suspense.
If you have read TBS, which character do you think portrays you the best, and why? If you haven't read it yet, run to the bookshop and buy it now! It'd be a crime not to!